Fabolous is coming to town to perform to his loyal fan base next week at the IndigO2 playing all his top London Groove Ltd hits.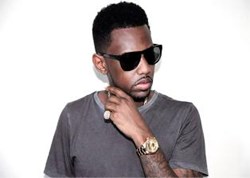 (PRWEB UK) 2 September 2013
The NY rapper has been keeping busy collaborating with various artist played across the many clubs in London, including the talented Ryan Leslie who has featured Fabolous on his latest song Green taken from the singers forthcoming album Black Mozart.
Random Contribution Link with regards to Music Visualization :
Music Visualization
UK fans will be getting a heavy dose of Fabolous as he embarks on his European Tour performing in Dublin on September 5th; Glasgow, September 7th; Manchester, September 8th; Birmingham, September 9th; Paris, September 12th; Pumpehuest, September 17th; Berlin, September 21st; Cologne, September 22nd; and Hamburg, September 23rd.
However, the all-important date for London party fans is Tuesday, 10th September when the NY rapper will headline at the Indigo2 for one night only performing his anthems such as Ready which features Chris Brown and has over eight million YouTube views, plus you can expect classic such as So Into You, Make Me Better, Its My Party, Baby and many more.
Tickets are priced between